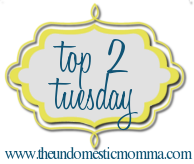 It's been awhile since I linked up for Top 2 Tuesday but this week's topic was too good to pass up!
Top 2 Things You Collect
!
No, I'm not uber religious and no, I am not catholic. However, I do love Saint Candles. I don't know if it's all the bright colors and designs or what but I love adding to my growing collect. I think I about about 15 right now. 
Hello?!? Remember my giant
post
talking about my Not So Secret Addiction of dvds ?! I have over 1,000 movies and the collection just keeps on growing and growing! What's pictured isn't even all of them!