Continuing with co-hosting duties of
25 Days of Christmas
with Star from over at Stars Pink World. Today's topic is
Christmas Traditions
.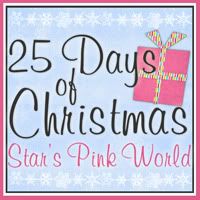 Growing up and through the years we've kept our family traditions alive. The first beginning with our Christmas tree. We've had a live tree every year since I was 3. I'm not on my 23rd live Christmas tree. This one is currently in my living room...

We always get it the Saturday or Sunday after Thanksgiving and try to have it completely decorated by the Wednesday. 

Another tradition, we open one Christmas present on Christmas eve. The rest have to wait till Christmas day. And yes, we still get up early to open all our gifts! 
Yep, that's me. Tired, no make up, in my pj pants on Christmas Eve 2009
Another thing we still do is leave cookies for Santa and hang our stockings. We go old school and have the traditional red/white stockings.
What's your Christmas Traditions? Link up and let us get to know them!