I'm co-hosting
The 25 Days of Christmas
with Star from Star's Pink World.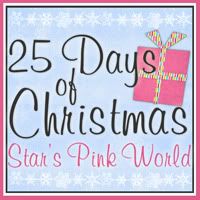 Today's topic is
Christmas Decorations
! 
I love Christmas and one of my favorite things about it is the decorations. This year I have 3 trees up in the house. One being my 6.5 ft. white tree...
It's mainly all candy theme ornaments. I did a whole post on it a few days ago, to see more of the tree and the ornaments you can see them
here
. 
Then there's the tree in my bedroom. I've actually had it up all year long. I put it up last September and then once the holidays were over, I decided that I wanted to keep the Christmas cheer going all year long.
To see the original tree ornaments and tree, go
here
. The photo is above includes all the new ornaments I added over the year. 
And then of course our live Christmas tree. It's 6-7ft. tall and smells so good! Every year since I was a child we've always had a real Christmas tree. I can't imagine not having a live one. We just got it on Saturday afternoon and it's not finished yet, so right now here's the photo of it getting picked out! 
Apart from the trees, we always go full out when it comes to decorating. We've got our banisters covered in garland/lights. We've got our manger scene up, the holly spread out around door frames, candles out, etc. You name it, we've got it! 
So link up and show us your Christmas decorations!