I can't wait for work to be over today because tonight I'll be eating at one of my favorite places in town...
I seriously love that place. It's always fun and they have
the
best food. I shall be ordering a large plate of bacon, cheese fries and then a good old fashion cheeseburger. Yum!
Um, is anyone else not done with their Christmas shopping? Please tell me I'm not the only one. I have almost everyone taken care of but I still need to order a few things. I'm hoping at this point everything will get here on time. *crossing fingers*
Speaking of Christmas, today's topic of
25 Days of Christmas
is
Christmas Music
.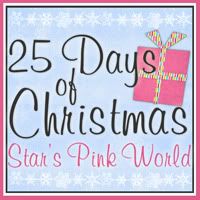 I'd have to say that I have 4 favorite Christmas songs. In no particular order they are-
1. Blue Christmas-Elvis Presley.
2. The Twelve Days of Christmas- Bing Crosby & The Andrews Sisters.
3. I Want a Hippopotamus For Christmas- Gayle Peevey.
4. Cool Yule- Louis Armstrong.
What's your favorite Christmas song?