I have a little secret... this is a scheduled post. I'm on the road today to see one of my very best friends! Some of you actually know her IRL. 
However, I'm continuing with my co-hosting duties of Star's 25
Days to Christmas
! Today's topic is the
Best Gift
 You've Received
.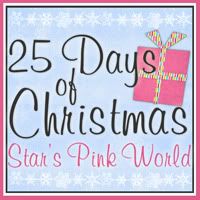 It took me a long time to figure this one out. Like, I literally sat and stared at my computer screen for a good 15 minutes, racking my brain trying to figure it out. Then finally it dawned on me... my 1988 Dixie Diner Toy Set. 
I played with this set for hours and hours as a kid. I can remember lugging this thing every where. It was one of my favorite toys from my childhood. I still have it and it's in my closet! 
I know a lot of people are going to think why this toy? Well because it was fun and it brought me a lot of happiness as a child, so why not?!
What's been your favorite gift?