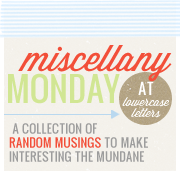 -I am anxiously counting down to many different things. I need to learn how to live in the present and not in the future. I need to learn how to love each day for that day. I think I'm getting slightly better at it but at the same time I'm still counting down to things on the horizon.
-I had a moment this weekend where the movie/book,

He's Just Not That Into You,

spoke to me. I saw the situation for what it was and said to myself, "No don't. He just not that into you." and I'm fine with that because it is what it is. Just remember ladies, if he ain't calling then he's just not that into you.
-I have a giant stack of books sitting beside my bed waiting to be read. I feel guilty for not sitting around reading all of the time. Am I the only one who feels this way?
-I am so thankful for my Mom

(Love you Mom, if you're reading)

. She seriously keeps me sane. I'm also thankful for

Erica

because she lets me vent to her on our daily phone dates lol. If you haven't checked out Erica's MAC makeup giveaway you should!!